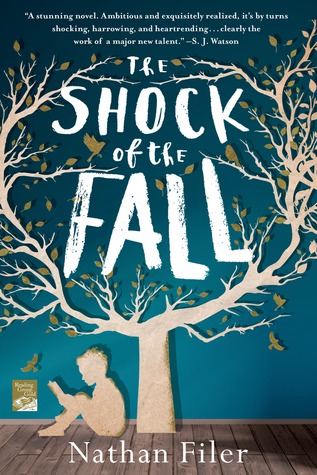 Title:
The Shock of the Fall
Author:
Nathan Filer
Pages:
307
Genre:
Contemporary, Mental Health, Young Adult
Book Description:
'I'll tell you what happened because it will be a good way to introduce my brother. His name's Simon. I think you're going to like him. I really do. But in a couple of pages he'll be dead. And he was never the same after that.'

As it is still February, I guess you could class this as a read for Swoonuary. It isn't a romance novel but it is contemporary so I guess it sort of counts...
My Opinion:
This book was phenomenal. It was emotional and mysterious and unexpected and I'm so sad to have finished it because it was so good.
When I first picked this book up, and flicked through it in the store, I noticed little pictures and changes in the font. This was an unusual touch which intrigued me but after reading the novel I think it fits perfectly with the narrator and makes everything more believable and creative.
I think Matthew was such an amazing character. He was an unreliable narrator which meant the story was written in chronological order. This can be confusing but the author managed to make this clear when switching time periods. Matthew was an amazing character and I really felt like I connected with his past and his feelings.
The plot was also really well-written. There were all these flashbacks that hinted at the revelation at the end but nothing could have prepared me for what happened. With the beginning so intriguing, I was desperate to find out what led to this. It was unexpected and everything I had read before clicked into place and made sense.
I could go on and talk about this book for hours but that would be a very long review and I'd probably end up spoiling it so this seems like a good place to stop. I
definitely
recommend this book to everyone and anyone. It was nothing like I expected it to be (in a good way) and I'll certainly be re-reading it in the future!
Favourite Quotes:
Reading is a bit like hallucinating
~~~~
I decided each name on each spine was the person who the book had been written for, rather than who had written it. I decided everyone in the world had a book with their name on, and if I searched hard enough I'd eventually find mine
~~~~
What I did at the memorial, was listen.
To the laughter and the tears, and to the quiet stillness that followed
~~~~
Inside my head is a jigsaw made of trillions and trillions and trillions of atoms. It might take a while
Next book I'm going to review:
The Curious Incident of the Dog in the Nighttime by Mark Haddon