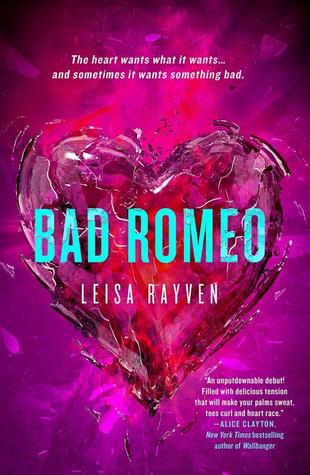 Title: Bad Romeo
Author: Leisa Rayven
Pages: 417
Genre: Romance, New Adult, Contemporary
Book Description:
When Cassie Taylor met Ethan Holt at acting school, sparks flew. She was the good girl actress. He was the bad boy about campus. But one fated casting choice for Romeo and Juliet changed it all. Like the characters they were playing, Cassie and Ethan's romance seemed destined. Until he broke her heart and betrayed her trust. Now the A-list heartthrob is back in her life and turning her world around. One touch at a time.
Cast as romantic leads once again, they're forced to confront raw memories of the heartbreaking lows and pulse-pounding highs of their secret college affair. But they'll also discover that people who rub each other the wrong way often make the best sparks
My Opinion:
This style book isn't one I would normally pick up so I'm really glad I got a chance to read it with the Bookish Groupies! You can check out their thoughts of the novel on their blogs :)

I thoroughly enjoyed this book. It was fast and intriguing and involved some very unexpected twists. I really liked the ending and I was constantly reading on to find out what happened next!

My favourite technique used was the flashbacks. They can be a little confusing sometimes and at first I disliked it but the author clearly labelled the time zone and the characters location so it was clear what period we were in and as I read on I came to enjoy this more. This worked really well and is a unique technique.

I thought the characters were really well written. Even though he was a bit of a jerk, I loved Ethan! He was mysterious and dangerous and very very hot :*

Overall I thought this book was amazing and would definitely re-read it. I recommend this to anyone who enjoys 'steamy' romances or just general New Adult books. I'm looking forward to reading the next in the series, hopefully also with the Bookish Groupies!
Favourite Quotes:
Sometimes people put up walls, not only to keep people out, but also to see who cares enough to tear them down
Without passion, life is meaningless
You terrify me. But not enough to make me think you won't be worth it
Just moving. Like most of our time together, we're treading water. Trying not to drown
Rating ★
★
★
★
4 out of 5 stars
Next book I'm going to review:
The Shock of the Fall by Nathan Filer