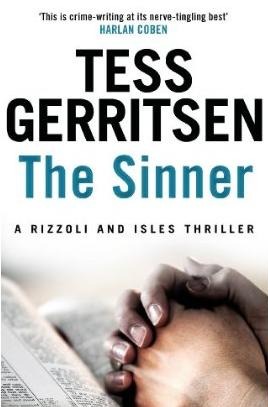 Title:
The Sinner
Author:
Tess Gerritsen
Pages:
419
Genre:
Crime, Thriller, Mystery
Book Description:
Within the walls of a cloistered convent, a scene of unspeakable carnage is discovered. On the snow lie two nuns, one dead, one critically injured - victims of a seemingly motiveless, brutally savage attack.
Medical examiner Maura Isles' autopsy of the murder victim yields a shocking surprise, but the case takes a disturbing twist. The body of another woman has been found. And someone has gone to a lot trouble to remove her face, hands and feet.
As long buried secrets are revealed so Dr Isles and homicide detective Jane Rizzoli, find themselves part of an investigation that leads to an awful, dawning realisation of the killer's identity...

My Opinion:
With a main focus on the Medical Examiner, Maura Isles, we see how two completely different murder cases seem to be connected with the help of Boston detective, Jane Rizzoli.
What I really enjoyed about the third book in this series is that the perspective has switched onto Isles, rather than focusing on Rizzoli. Whilst she is still a prominent character, we just get to hear more of Maura's perspective, which I've really enjoyed since I find that I relate to her more than Rizzoli.
There's also so fantastic character development between these two powerful women. In the first two books the story seemed to focus more on the plot line with the Surgeon case becoming an increasing threat to the characters, whereas in this next book (with the Surgeon case finished) there seems to be a more direct focus towards the characters and we get to see how they build their friendship and work as a team together. This adds a lot more to the novel as it still follows the fast paced, action-packed plot, however there are some more social aspects outside the crimes involved.
As mentioned above, the plot was just as intriguing as the previous novels with such unexpected twists and really wonderful ending (it could almost be considered to end happily which is unusual for thriller/crime novels!)
There was a hint of romance throughout this book as previously seen, which was a nice touch and something I didn't expect. The romance didn't take over the main story which is what I'm most pleased about since the main theme is the murders and solving these. Especially when the revelation at the end is the most fascinating part! I'm just glad this wasn't ruined.
Overall this was another insane book in the Rizzoli and Isles trilogy by Gerritsen. Just as promised from her previous works, it was full of mystery and cases that seemed to be separate from each other, and somehow managed to tie together at the end, with some extra character development and a different perspective. Once again, straight onto reading the next book in the series!

Favourite Quotes:
The dead do not hurt you; only the living do
Only the forgotten are truly dead
Death does not discriminate; whether saints or sinners, in the end, all are equal
Next book I'm going to review:
Mrs Dalloway by Virginia Woolf