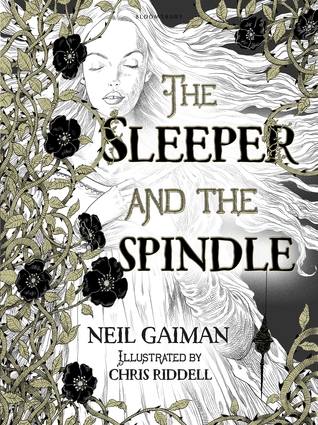 Title:
The Sleeper and the Spindle
Author:
Neil Gaiman
Pages:
69
Genre:
Fairytale, Fantasy, Graphic Novel
Book Description:
A thrillingly reimagined fairy tale from the truly magical combination of author Neil Gaiman and illustrator Chris Riddell – weaving together a sort-of Snow White and an almost Sleeping Beauty with a thread of dark magic, which will hold readers spellbound from start to finish.
On the eve of her wedding, a young queen sets out to rescue a princess from an enchantment. She casts aside her fine wedding clothes, takes her chain mail and her sword and follows her brave dwarf retainers into the tunnels under the mountain towards the sleeping kingdom. This queen will decide her own future – and the princess who needs rescuing is not quite what she seems. Twisting together the familiar and the new, this perfectly delicious, captivating and darkly funny tale shows its creators at the peak of their talents.
My Opinion:
I love a lot of Neil's novels and when I saw this in my local book store I couldn't resist picking it up. The artwork on the cover is so beautiful and I'm a huge fan of Chris Riddell's artwork anyway. This image shows as much justice as possible, but the cover is so much more beautiful in person - the gold is shiny in the light!
I'm also a huge fan of fairytales and when I saw that this linked two of my favourites, I knew I had to get it.
The artwork is the main reason I bought this edition. It's so beautiful and the colour scheme, a simple black, white and gold, is magnificent. I love how the illustrations match the slightly Gothic and creepy story line.
What I love most about this, other than the artwork, is that it has a really interesting ending. It's unexpected and perfect and I really, really liked the twist. All I can say without giving too much away is that it is the complete opposite of your normal and well-known fairytales.
I definitely recommend this book to everyone. It's a short read and it was quite expensive for what it is, but the illustrations and fairytale inspired story are certainly worth it. I'm glad to add this novel to my collection of 'extremely pretty and do not destroy' books!;)
Favourite Quotes:
But the path to her death, heartbeat by heartbeat, would be inevitable
Next book I'm going to review:
The Night Circus by Erin Morgenstern